Orion Entrance Control Hires Paul Ragusa as Marketing Manager
Orion building strong leadership team to support tremendous company growth
For Immediate Release
June 17, 2022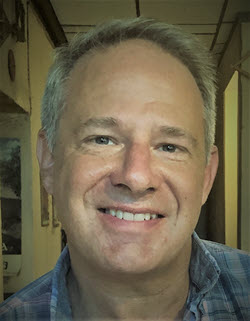 LACONIA, N.H.—Orion is pleased to announce that Paul Ragusa has joined our company as Marketing Manager. Prior to joining Orion, Paul honed his marketing and writing skills working for more than 25 years in management roles at several publishing, media and marketing companies, including most recently as editor of Security Systems News. During his six-plus years at SSN, Paul oversaw all content for the publication and website, in addition to creating the education program for the company's annual SecurityNext conference.
"I am super excited to start this new chapter in my career at Orion, a company that is doing great things under the strong leadership of CEO and Founder Steve Caroselli," said Ragusa, who will report to, and work closely with recently hired Sales and Marketing Director Steve Johnston. "I am impressed with the incredibly talented team that he has put in place, the company culture he is building, and his vision for the company overall."
Paul has served on the Security Industry Association (SIA) New Product & Solutions Award Committee, and the SIA Women in Security Forum (WISF) Power 100 Nominations Committee, helping to launch the first-ever Power 100 list of women in security. In addition, he spearheaded the partnership with PSA Security Network for the new "Systems Integrator and Bill Bozeman Awards" recognizing top integration companies, as well as the partnership with The Monitoring Association (TMA) to create a Diversity, Equity and Inclusion (DEI) Leadership Award with the goal of promoting and fostering a more inclusive workforce throughout the security industry.
"We are very excited to add Paul Ragusa to the Orion leadership team, as we build out our marketing presence to help support the incredible growth we are experiencing," said Caroselli. "Paul brings a wealth of security industry experience and knowledge. I can't think of a better person to help lead our marketing content and tell Orion's story as the best kept secret in security."
Orion is a leading U.S. technology company specializing in speed lanes, optical turnstiles, full height turnstiles, security tailgating solutions, and occupancy sensor solutions with data delivered through our cutting edge IOT device software Infinity™. From our security piggybacking and tailgating solution DoorGuard™ to our presence detection sensing solution Constellation™, Orion delivers actionable data and business intelligence to its customers while providing the highest quality materials backed by stellar customer service and support.
For Further Information, Please Contact:
Steve Johnston
Orion Director of Sales & Marketing
T: (248) 687-6744
E: [email protected]
For Media Queries, Please Contact:
Paul Ragusa
Orion Marketing Manager
T: (516) 382-0069
E: [email protected]