ESCC COMPLETES LOBBY TURNSTILE CLOUD-BASED ACCESS CONTROL SYSTEM
11 WEST 19th STREET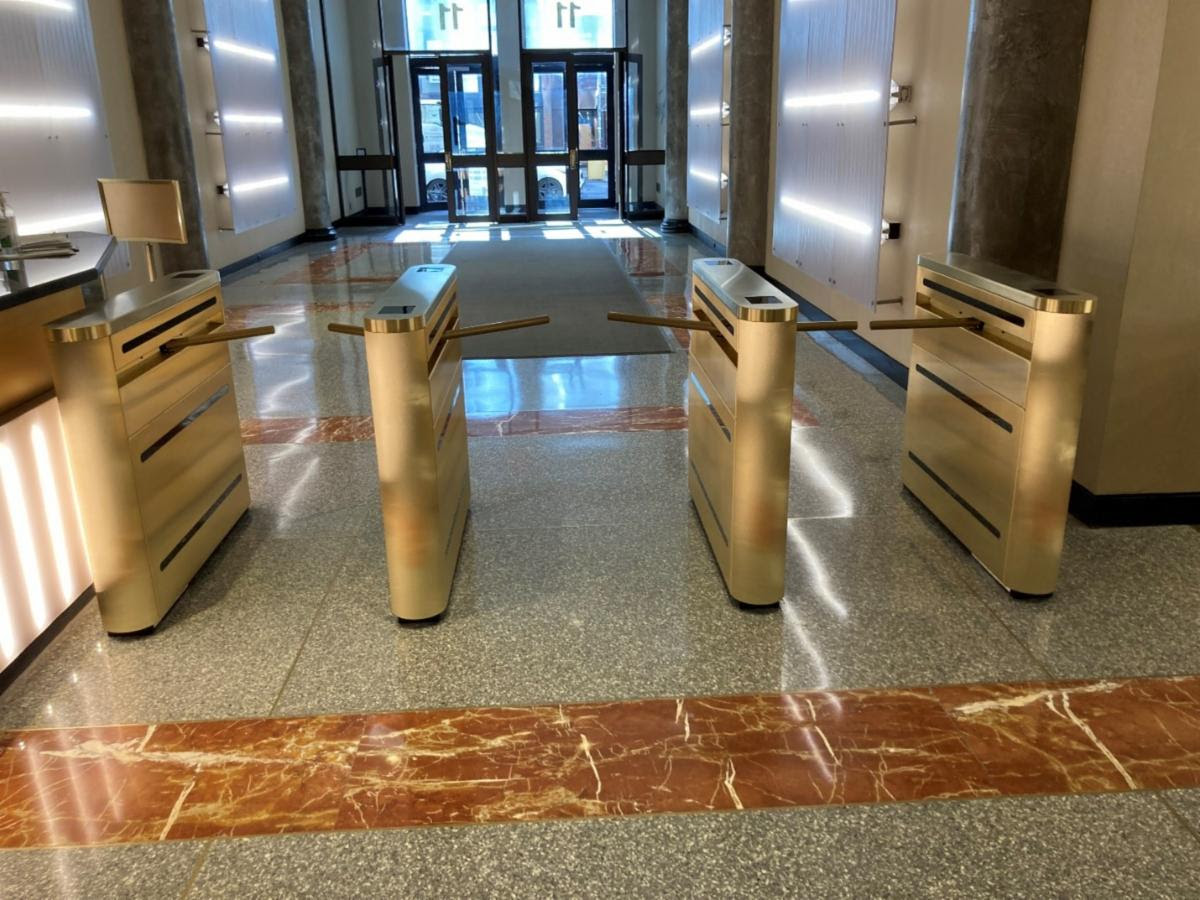 New York, NY 12/20/22 – Working with NYC-based Savitt Partners, a principal-driven, full-service commercial real estate firm in New York and in partnership with Openpath, a Motorola Solutions Company, ESCC has added their state-of-the art, Cloud-Based Access Control System, with contemporary turnstile hardware that beautifully blends with the elegant, attended lobby at Savitt's trophy office building – 11 West 19th Street.
ESCC was tasked with designing, engineering and installing a security system that offers the most advanced and sophisticated technology in access control that is equally as elegant in its physical appearance.
The historic property is an impressive 11-story office building located in the Chelsea-Flatiron district. Built in 1902, it is a recognizable architectural gem on 19th Street. With fashion icon tenant Tory Burch in the building and the digital campus for Capital One, the lobby space demanded exquisite finishes paired with world-class technology.
Says Robert Horowitz, President of ESCC, "With cloud-based systems becoming a trusted alternative to onsite servers, cloud-hosted access control is gaining traction with its capability to operate these systems from anywhere in the world with the use of mobile devices. Access control systems are no longer seen as a convenience, but as an important feature of workplace security. Remarkably, we can bring this technology even to a building that was designed and built over a century ago."
Continues Horowitz, "We saw an uptick in our access control system business during and post-Covid, as management looked for ways to promote health and safety with touchless entry and then hybrid work highlighted the need for more tools to secure facilities."
Louis Daigneault, the Senior Project Manager, pointed to ESCC's professionalism in electronic security and dedication to detail and perfection on the cosmetic side that made it possible for ESCC to handle a project of this magnitude.
Says Daigneault "As a leading New York-based security and communications integrator, ESCC prides itself on delivering leading-edge technology systems and integrating them into NYC's most architecturally renowned buildings. In the case of 11 West 19th Street, we have provided some of the most sophisticated access control systems and seamlessly integrated them into a 120 year-old building with an architectural design that needs to be preserved. ESCC's work is nearly invisible to the eye yet always present when it is needed most."
In addition to the turnstiles, ESCC completed installation of security systems throughout the building.
For more information about ESCC contact:
Anita Mascoli, Senior Client Advocate
212-400-9033
[email protected]
or visit our website at www.escc.com