Orion Entrance Control Inc. Promotes Tom Elliott to Vice President Enterprise Sales
Orion's Growth into Occupancy Sensors & Security Tailgating Creates Expanded Sales Team Needs
For Immediate Release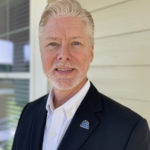 Laconia, N.H. – January 31, 2022. Orion ECI is pleased to announce that Tom Elliott has been promoted to the newly created position of Vice President, Enterprise Sales. Most recently, Tom held the position of Director of Global Business Development and previously held the title of National Sales Manager.
"I am proud to announce the promotion of Tom Elliott to Vice President, Enterprise Sales. Orion Entrance Control, Inc.'s CEO Steve Caroselli stated, "Tom has been a critical leader for our sales organization and our growth means we have the opportunity to reward his contributions."
Traditionally known as a converged entry technology company, Orion has significantly expanded its product offerings to meet evolving client needs. Specifically, the company has expanded beyond traditional entrance control products speedgates, optical turnstiles, and full height turnstiles into security tailgating with DoorGuard™ and occupancy sensor solutions under the Constellation™ brand. Orion continues to expand the capabilities of proprietary IOT device software Infinity™ to deliver vital business solution data through a single pane of glass.
For Further Information, Please Contact:
Tom Elliott, Orion Entrance Control, Inc.
Vice President Enterprise Sales
T: (603) 527-4187 ext.308
E: [email protected]
For Media Queries, Please Contact:
Mikayla Caroselli-Luttrell, Orion Entrance Control, Inc.
Marketing Coordinator
T: (603) 527-4187 ext.337
E: [email protected]