DoorGuard™ Awarded U.S. Patent
Orion's LiDAR-driven security tailgating solution
For Immediate Release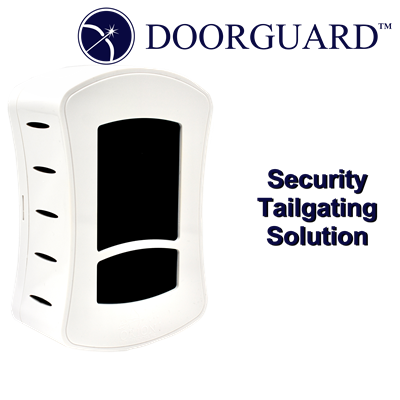 LACONIA, N.H.—U.S.-based security turnstile and technology company Orion Entrance Control is excited to announce its LiDAR-based, inference engine-driven tailgating solution DoorGuard™ has been awarded a U.S. patent.
"This really is a monumental accomplishment for Orion, as the technology that drives DoorGuard™ – LiDAR, AI and our Nebula Inference Engine™ – are cutting-edge technologies and speak to our core mission, which is to be a leading technology company that also sells intelligent, high-quality U.S.-made speed lanes," commented Orion CEO Steve Caroselli.
Orion's DoorGuard™ sets the bar by harnessing LiDAR (Light Detection and Ranging) technology and point-cloud data in combination with Orion's new DoorGuard™ Nebula Inference Engine™, so the system gets smarter over time. For example, Orion can program specific scenarios and use cases into the software, and share that with the entire DoorGuard™ ecosystem, enabling end users and systems integrators to achieve an extremely low false-alarm rate, as close to zero as possible. DoorGuard™ can adapt to your specific needs, unlike anything on the market!
DoorGuard™ reduces false alarms and provides actionable data through Orion's Infinity™ software platform for accurate people counting, mustering info, operational efficiencies, business intel, and more! Infinity™ allows users to quickly address and respond to issues in real-time, on site, or remotely, saving valuable time and resources troubleshooting, all while providing real-time and actionable data on occupants in the building! Know who and where people are for effective and frictionless building control.
Powered by LiDAR (Light Detection and Ranging) technology to detect and ensure that every single individual passing the entry point has presented an authorized credential. If one credential is scanned and more than one person enters, DoorGuard™ can alert security of a tailgate using our Infinity™ software, or through our open API, or relay outputs based on the requirements of the facility. In addition to being fully integrated with Orion's Infinity™ software platform, DoorGuard™ is universally compatible with any existing access control system.
Design Advantage
Orion chose an overhead design approach because the existing "sensor mounted on a doorframe, or wall" unit that people are accustomed to buying for the last 30 years is flawed, allowing tailgating to still happen. In addition, DoorGuard™'s overhead design provides better data with our point-cloud technology and because of its greater field of view compared with other tailgating technology on the market that uses a door-mounted design.
"With those door units, the sensor can easily be blocked by one person standing in there while others walk through," he explained. "By going overhead, with no video component, we have solved that perennial tailgating problem, and we are also providing a solution that is completely private and frictionless. What further differentiates us from the competition is the point cloud and LiDAR data, which provides phenomenal decision-making capability."
Support and Reach
Together with our value-added resellers and security integrator teams, Orion provides support for regular service and maintenance to help prevent hardware and software breakdowns, and to keep your operations running smoothly. In case technical issues do arise, you can be confident that Orion's dedicated service team will be available to address them.
Orion is a leading U.S. turnstile and technology company specializing in speed lanes, optical turnstiles, full height turnstiles, security tailgating solutions, and occupancy sensor solutions with data delivered through our cutting-edge IOT device software platform Infinity™. From our security piggybacking and tailgating solution DoorGuard™ to our presence detection sensing solution Constellation™, Orion delivers actionable data and business intelligence to its customers while providing the highest-quality locally sourced materials backed by stellar customer service and support. For more information, please visit www.orioneci.com.
For Further Information, Please Contact:
Steve Johnston
Orion Director of Sales & Marketing
T: (248) 687-6744
E: [email protected]
For Media Queries, Please Contact:
Paul Ragusa
Orion Marketing Manager
T: (516) 382-0069
E: [email protected]