Orion Sales Team Hires Steve Johnston to Lead Sales & Marketing
Orion's Growth Creates Need For Additional Industry Leadership
For Immediate Release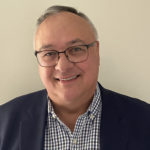 Laconia, N.H. – April 27, 2022. Orion is pleased to announce that Steve Johnston will be joining our company as the Director of Sales & Marketing. The University of Michigan graduate brings additional security industry leadership to Orion from both manufacturer and integrator perspectives which will be critical assets in his Orion responsibilities. Steve Johnston stated, "Orion is a technology company that designs, manufacturers, sells, and supports the best technology in the industry. I'm ready to help clients leverage our technologies to create safe, secure, and sustainable spaces." In addition to the full Orion product line managed through our IOT device software Infinity™, the company's new technology offerings made the opportunity especially attractive. Specifically, presence detection sensing Constellation™ as well as security piggybacking and tailgating solution DoorGuard™ played key roles in his decision to join Orion.
Orion CEO Steve Caroselli pointed out, "We are very excited to have Steve Johnston join the Orion Leadership Team to take our sales and marketing to the next level as we continue to scale up with new technologies, channels, and expanded partnerships across multiple business segments.
Orion is a leading United States technology company that specializes in speed lanes, optical turnstiles, full height turnstiles, security tailgating solutions, and occupancy sensor solutions with data delivered through cutting edge IOT device software Infinity™. From the entrance to the back-office, Orion has brought intelligent, effective technologies to help drive greater data and metrics to maximize business efficiencies as well as a higher level of safety through intelligent business practices.
For Further Information, Please Contact:
Steve Johnston
Orion Director of Sales & Marketing
T: (248) 298-6231
E: [email protected]
For Media Queries, Please Contact:
Mikayla Caroselli-Luttrell
Orion Marketing Coordinator
T: (603) 527-4187 ext.337
E: [email protected]